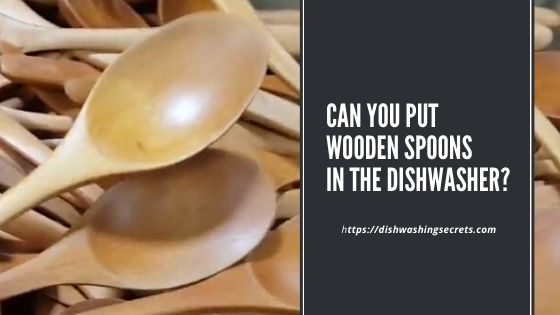 Do you like washing your kitchenware by hand? This household chore is time-consuming. An automatic dishwasher lets you forego it. But not completely. There are essential utensils that are not easy to clean. Can you put wooden spoons in the dishwasher? Commonly, wooden utensils need handwashing. They require disinfection, sanding, and drying with a towel. Steam or leftover moisture may cause cracking or warping. So, let's discuss how to care for your wooden kitchenware properly.
Are Bamboo Spoons Dishwasher Safe?
Kitchen Utensils Set,NAYAHOSE Wooden Cooking Utensil Set Non-stick Pan Kitchen Tool Wooden Cooking Spoons and Spatulas Wooden Spoons for cooking salad fork
Handmade and Durable: Our sturdy wooden spoons set is made from high-quality natural wood that will not deform easily and is highly heat resistant. All these kitchen utensils are made by hade, keeping in view the health standards.

Non-Toxic Eco-Friendly: The BPA free kitchen cooking utensils set is made from eco-friendly material is reusable for unlimited times.Wooden spoons for cooking.

Non-Scratch Spatulas: These kitchen wooden spoons are harmless to use in any utensil or cookware. The non-scratch wooden spatula is not going to leave any scratch on your pans.

Set of 6 Pieces: Our kitchen wooden spoons set consists of 6 pieces of kitchen spatulas. The variety of these kitchen wooden spoons is enough to meet all your cooking needs.

Easy to Clean: Easily clean the wooden cooking set by handwashing with mild detergent and let it dry naturally.
Wood is traditional and practical material. Humans use wooden spoons since ancient times. Nowadays, you have many other options.
Stainless steel, plastic, nylon silicone spoons
are available in almost every kitchen.
You may still prefer time-honored wood. Wooden utensils are superior to other materials because they are:
soft, gentle in use;
safe and inert;
lightweight;
non-conductive;
durable;
environment-friendly.
Do wooden spoons hold bacteria? Many wood species have germ-killing properties. Bamboo is a woody grass. Its timber is naturally anti-fungal and anti-bacterial. So are pine, cedar, and oak.
Wooden spoons stay warm for a long time. They don't burn your hands or tongue. It lets you eat faster and get on with your professional or daily chores. Wooden utensils are lightweight and comfortable to grip.
Finally, wood is non-reactive. Above all, it doesn't leach chemicals into your delicious food. Cleaning issues are the only disadvantages of wooden spoons. Most importantly, their surface is porous, and so, they require careful cleaning.
Can You Put Wood in the Dishwasher?
Wooden spoons are beautiful, safe and comfortable. They are pretty durable if you care for them properly. Wood doesn't break like glass items. It doesn't warp or discolor like disposable plastic bowls. Just pay attention to the spoons' quality.
Softwood absorbs moisture and odors easily. Dishwasher detergent is not too mild. It might damage delicate surfaces. Additionally, long-term exposure to hot water may cause furring or cracking of wood. Which wood species are preferable?
Types of Wooden Spoons
| Property | Bamboo | Pine | Maple |
| --- | --- | --- | --- |
| Density, lb/ft3 | 19-25 | 22-33 | 33-44 |
| Modulus of Elasticity, MPa | 33,418 | 13,000 | 11,300 |
| Thermal Conductivity, W/mK | 0.12-0.165 | 1.0-1.12 | 1.09-1.19 |
| Moisture content, green, % | 62-65 | 45-53 | 45-56 |
You probably know what should you not put in a dishwasher. All wooden items are on the list. High temperature and moisture affect them. Quite naturally, manufacturers season raw stuff initially. Dry wood with moisture content of 12-15% is strong. Its mechanical properties are perfect. Use wooden utensils at a temperature from 32 to 140 degrees F only. Relative humidity level should not exceed 80%.
Wooden Bamboo Cooking Utensils Set – 8pcs Wood Kitchen Utensil Set with Holder – Wooden Spoons for Cooking & Spatulas for Nonstick Cookware | Easy to Clean | Great Gift
✅ ★ VERSATILE AND EASY TO USE ★ Our bamboo kitchen utensils are a great all-purpose set for a variety of cooking types. It is perfect for mixing and stirring while using the bamboo spoons for cooking and baking. The bamboo spatula set is nice for flipping and tossing items during cooking, while the bamboo tongs are great for lifting or turning hot food.

✅ ★ DURABLE AND EASY TO CLEAN ★ Bamboo is one of the strongest and most durable materials to use in a wooden kitchen utensils set. Regular wood spoons for cooking are more porous, soak up water or absorb stains and odors easily, but our bamboo cooking utensils are naturally better sealed and more resistant, which makes cleaning and maintenance a breeze.

✅ ★ PERFECT FOR NON-STICK COOKWARE ★ A lot of plastic or metal utensils can damage your non-stick pots and pans beyond use. Using our wooden spoons for cooking will not damage your expensive kitchen accessories and you do not have to worry about ruining teflon coatings. All utensils edges are smooth, so they wont cause scratches in non-stick cookware.

✅ ★ GREAT AS A GIFT ★ Our wooden cooking utensils set comes with a nice box, which makes it an ideal gift for friends, family and any occasion - whether it's a Christmas gift, birthday gift or as house warming presents for new home or even as weddings gifts for the couple. Last but not least, we added a bonus ebook with great information, tips and tricks for the set.
What to Put in Dishwasher?
Most standard tableware and utensils are dishwasher-safe. They stand out by smooth surfaces, resist moisture and high temperature. Highly effective detergents don't cause any damage to them.
The list of easy-to-clean tableware includes:
Ceramic bowls, plates, and cups.
Stainless steel flatware.
Pyrex glass items.
Plastic chopping boards.
Silicone tools and brushes.
Measuring cups and spoons are commonly plastic. Most of them are dishwasher-safe. They consist of impact-resistant ABS or polypropylene materials. Pyrex glass baking dishes, containers and cutting boards are dishwasher-safe too. They are made of borosilicate tempered glass. So, you have easy-to-clean alternatives to wooden boards and utensils.
What Not to Put in Dishwasher?
It's commonly safe to put your silverware and poultry scissors in your dishwasher. Good, sharp knives might still get dull. Abrasive detergents and bumping against other items can affect their sharpness. Additionally, there is a risk of cutting your hands while you load or unload kitchen utensils.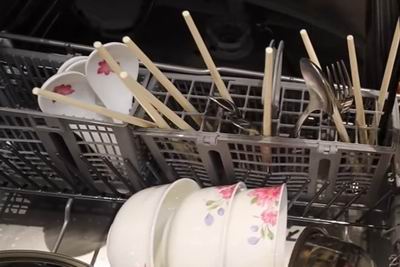 Other things that are not dishwasher-safe include:
cast iron skillets;
aluminum cookware;
copper mugs and pans;
hand-painted cups and dishes;
lids of pressure cookers;
thin, PET plastic containers.
Cast iron is a perfect material. It's chemical-free and durable. Food doesn't stick to these pans. So, you cook with less oil. But cast iron requires seasoning. A layer of oil protects it from rust. Aluminum is rust-resistant. But harsh detergents may damage or stain its surface. Non-stick coatings are also vulnerable to them.
Don't try dishwashing insulated travel mugs. High temperatures can damage your mug's seal. Tools with sharp edges such as sieves and graters require handwashing. Water stream hardly removes all food particles from their perforated surfaces. Plastic containers and melamine dishes are especially vulnerable. Heat and detergents might ruin them completely. Wooden utensils can never go in your dishwasher. They need washing by hands and special care.
GUAERGUOER Pure Cotton Table Runner,Tango -100% high-Density Combed Cotton Handcrafted on Both Sides Machine Washable Anti-Slip and Anti-Wrinkle tablemat (size14X72in, T1 Grass Green + Light Coffee)
1.100% high density combed cotton classic table runner, size 14x72in

2.The cotton table runner is made by skilled craftsmen with two layers of different color fabrics. You can use any side according to your preference, whether it is front or back

3. Double-layer cloth table runner is thick and easy to care, wear-resistant, non-slip, anti-wrinkle, machine washable, no ironing, flat dry or low temperature ironing

4. Our cotton table mats has super versatility, which can be perfectly displayed whether it is used in leisure or formal occasions. Dress up your dresser, place a coffee table comfortably, and add a little vintage or natural flavor to the table.

5.Each batch of products we produce has its own unique style, the use of both sides can increase the value of the product. Different colors or textures increase their matching and aesthetics.
How Do You Clean Wooden Spoons?
Wooden boards and spoons are versatile and long-lasting. But they are very delicate. These items are safe and lightweight. Wooden spoons don't scratch your non-stick cookware. Cooking with them is pleasant and comfortable. The handle doesn't get hot. Wood resists heat. The spoon doesn't melt in hot syrup or soup. Its edge may only change its color, becoming a bit darker.
Have you got your favorite wooden spoons? Clean them every day, at once after use.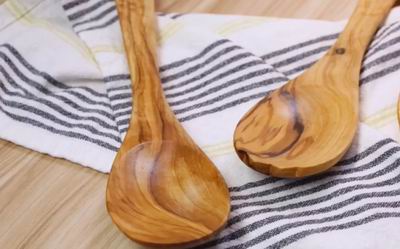 Rinse them with warm water.
Wash by hands with gentle dish detergent and hot water.
Scrub the surface with a sponge or your fingers.
Rinse the spoon.
Dry it off immediately with a clean towel.
When should you throw away wooden spoons? If they crack, you won't renew them. Distorted in shape items would require replacement. Other damages are not permanent. Rub the surface with steel wool or a piece of sandpaper. Disinfect it by vinegar, lemon juice or baking soda. Season it with natural or mineral oil.
Final Impression
Thus, you shouldn't put any wooden items in your dishwasher. Heat and long-term exposure to water make them warp or crack. Do you like your favorite spoons? You might prefer them, as they don't burn your hands. If so, wash your favorite utensils by hand. Otherwise, replace them with dishwasher-safe utensils. Stainless steel spoons are durable and heavy-duty. You'll face no cleaning or maintenance issues.
Video Review: How to Clean Wooden Spoons?