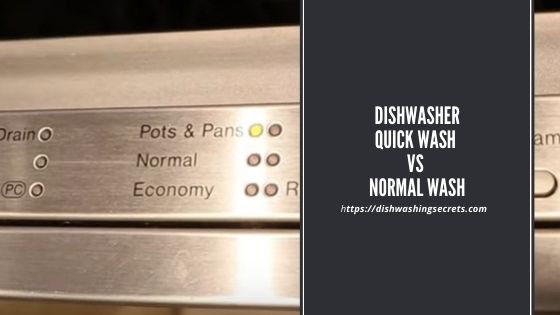 Every day you get piles of dirty dishes in your kitchen. They include various items: cooking pots, utensils, large bowls, glasses, and dishes. Will you wash them by hand? Fortunately, I've got a time-saver that is called a dishwasher. What about you? I hope, you've got a high-capacity, efficient appliance too. But which cycle to select? Let's compare dishwasher quick wash vs normal wash.
Every person takes a decision of this kind daily. It depends on your dishes' soiling level, their type, and amount of grime on them. Is it possible to shorten the washing time? Consider all benefits and restrictions of both cycles. It lets you operate your dishwasher properly and prolong its lifetime.
How Long Should a Dishwasher Last?
It may seem that all dishwashers are similar. They perform the same cleaning functions, looking hella sleek and compact. But above all, these modern, useful appliances are individual-specific. For example, they differ by sizes, colors, and efficiency. Your dishwasher should belong to a built-in or portable type.
Residential dishwashers are versatile. They include 1-3 racks with adjustable supports and silverware baskets. They are suitable to load all your items: dishes, glasses, cutlery, and baby bottles. Thus, your best wine glasses dishwasher comes with several basic cycles.
Each of them targets various washes, like:
Automatic.
Delicate.
Quick.
Intensive.
Normal.
Rinse.
Sanitizing.
Should I run my dishwasher every night? Each product has its own list of cycles. For example, its lifespan depends on multiple factors: brand, model, and maintenance matters. Besides, the frequency of use is critical. Manufacturers estimate the dishwasher lifespan in reliance on 5 cycles/week. In this case, it should make about 9.5 years. If you use your dishwasher every day or night, you might have to replace it in 7 years or so.
See interesting information about best dishwasher for wine glasses!
Why Does Dishwasher Take Longer to Wash?
After a getty, you'll have a lot of glasses, shots, and dishes to wash. Other days, you can wash several cups and saucers by hand or leave them till tomorrow. Nevertheless, try to pre-wash your houseware before putting it into your dishwasher. It lets you use a faster cycle, cutting down water and energy consumption.
Regular or express wash cycles are preferable. They shorten washing time, using less electricity and water. Are there any differences? Let's check it.
| Cycle | Normal/Daily Wash | Quick/Short Wash |
| --- | --- | --- |
| Temperature, ° | 130-140 | 120-130 |
| Duration, min | 110-125 | 15-60 |
| Application | normally soiled utensils | lightly soiled glasses |
| Benefits | energy-efficient | time-saving |
| Restrictions | no grime, food particles | only pre-rinsed dishes |
Is it better to wash or use a 1-hour cycle? It may use an additional amount of water or heat to clean your tableware faster. Anyway, it's more energy-efficient than longer and more heavy-duty cycles. Thus, fixing to meet your guests soon, it's possible to jumpstart the task. You'll be able to lay the table in time.
How Much Electricity Does a Dishwasher Use?
It depends on the water temperature. Your appliance is to heat it—energy-efficiency rating matters. The highest class is A++++, the lowest is "D". Energy star certification lets you save gallons of water and reduce electricity bills. Much turns on the dishwasher use and maintenance.
A dishwasher that uses hot water as a sanitizer reaches high, 140-180 °F temperature. Connecting your appliance to hot water line, you reduce its electricity consumption. Additionally, at night energy rates are much lower than during peak hours.
In San Francisco, they are still rather high, making 24.0 cents/kWh, on average. Nationwide rates are about 13.4 cents/kWh. From midnight to 8 am. energy costs make about 1.63 – 2.78 cents/kWh. Running your dishwasher at night lets you save a lot of money.
Pay attention to one of the basic dishwasher benefits. It runs while you are sleeping. You don't let dirty cookware pile up at the sink. Keep your kitchen clean and tidy. Don't you want to make noise at night? Modern dishwashers are quiet. They produce not more than 50-60 dB. As a result, no hum wakes you up.
How Long is a Quick Wash on a Dishwasher?
The cycle lasts from 15 minutes to one hour. 60 minutes is a common express timing. Leading manufacturers, like GE, Danby, or Black+Decker, apply it. Nowadays, fast dishwashers meet a ready market. Which dishwasher has the shortest wash cycle? Miele Pro and Thermador Star series meet the needs. They do the job within 15-20 minutes.
So, rapid wash cycle is necessary not every day. I use it not more often than once a month. When will you need clean plates immediately? Only before a party or right after your meal.
Best integrated dishwasher with a quick wash cycle is useful. This mode suits washing lightly soiled loads, like:
coffee cups;
china;
crystal glasses;
plates.
Bosch also offers a 30-minute express wash model. But it doesn't include drying time. Should you leave dishwasher door open to dry? It's an energy-saving option. Your plates dry quickly if humidity in your house is normal. You can add some cutlery, a saucepan and even a small cooking pot. Pre-wash them to eliminate food particles and grease.
Can You Put Pots and Pans in the Dishwasher?
A regular cycle is suitable for your medium load of pans and pans. Click here for more info! There are other, more desirable washing cycles. For example, "eco wash" implies low energy and water consumption. It heats water only up to 113 degrees but requires a bit more detergent than quick wash. Additionally, your dishwasher doesn't heat your kitchenware to dry it off. Let the dishes air dry. It takes some time but saves a lot of electricity.
A regular cycle is ideal for everyday use. It can be used to wash absolutely any dish.
Stainless steel cookware and pans.
Dishes.
Coffee and teacups.
Flatware.
Glasses.
Avoid delicate and heavily soiled items. So, the cycle is efficient to keep a full load of your common kitchenware clean. It doesn't need too much time, heat, and water to do the job. It may last about 2 hours, including drying (about 45 minutes). Sometimes, I prefer automatic (sensor) mode, but it might be more energy-consuming.
Final Impression
How often do you use heavy wash (pots and pans) cycle at home? I think there are very few occasions. How long does a 70-degree dishwasher cycle last? To heat water up to 70°C (158° F) your smart appliance uses high pressure. It takes up to 3 hours and a half, consuming a lot of power. When is the intensive wash necessary? It removes grime and consolidated food from your drying pans. It cleans also your extra-dirty dishes. You don't have to soak them initially. In a restaurant or café, it might be hella useful. But commonly, at home, quick and regular wash cycles are beneficial. Don't forget to use them to cut down your water utility and energy bills.