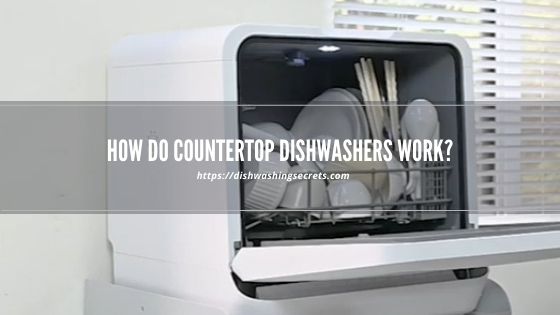 Do you live in a rented house? Being a young, developing family, you can share a small studio or a dormitory. Your home might not be hella luxurious and spacious. But it is to be clean, warm and cozy. As soon as your daily chores are not too cumbersome, you'd be a diligent housekeeper. A smart appliance would be still useful. How do countertop dishwashers work? This compact device fits even your tiny kitchen. It requires nothing but temporary installation. A connection is intuitive, and you can easily put your lightweight machine away. Store it in your pantry or boxroom until the next use. Meanwhile, countertop units are dank. They are hella efficient, energy and water-saving. Does it provoke your interest? Study up on these stellar appliances.
Benefits of Countertop Models
After a bright event like Christmas, you get a sore situation. Only your best dishwasher with hard food disposer does the job. A large, heavy-duty, high-performance, built-in machine is a beast. Above all, it removes all grease and gnarly food particles easily. Besides, no rinsing or pre-soaking is necessary.
How much hot water does a dishwasher use? It's another question. Countertop units could be useful. Dishwashers of this king are:
space-saving;
lightweight and compact;
intuitive to set up;
safe to use;
affordable and cost-efficient.
Countertop devices have limited features and capacities. But if there are only two of you, it would be enough. After an intimate event like St Valentine's Day, don't be a wastrel. Additionally, up to 20 million American people live in mobile homes. If you do, don't have to wash your greasy dishes by hand, anyway.
Right Now interesting information about best dishwasher with hard food disposer!
Portable vs Countertop Dishwasher
A grip of American households moves every year. According to US Census Bureau, in 2018 about 32 million US families relocated. If you are a rolling stone person, consider buying a spacious model on wheels. Are portable dishwashers worth it? They are maneuverable, easy to adapt to your kitchen design.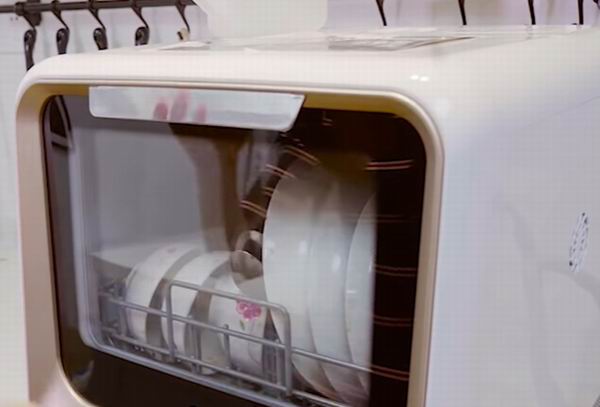 But if your kitchen space is hella small, it might be still bulky. What about a compact, countertop device? Let's compare these types right now.
| Dishwasher | Portable | Countertop |
| --- | --- | --- |
| Design | on wheels | simple, box-shaped |
| Width, in. | 18 or 24 | 16-22 |
| Height, in. | 36 | 17-20 |
| Weight, lbs. | 70-130 | 36-50 |
| Capacity, place settings | 12-16 | 2-6 |
| Customers' Priorities | rented house | limited space |
Countertop dishwasher would become your reliable household or traveling staple. An easy to carry machine is essential. It assists you on a picnic or remote campsite. Your best organic natural dishwasher detergent would be essential there. It's safe to use on septic sewage systems. Pre-rinsing might be needful in this case. But an efficient, eco-responsible product is beneficial. Besides, it removes grease and stain without any toxic or harmful chemicals.
See interesting information about best organic natural dishwasher detergent!
Do Dishwashers Actually Clean?
Having got a large, mob family, you'd realize its benefits. After a hyphy party, you'd like to be chilling for a grip of hours, at least. Especially if you host it and it's not a kickback. Your unnoticed dishwasher lets you forget about piles of dirty plates. It blasts soil and stains off from their surfaces.
How do portable dishwashers work? A wheeled machine may look virtually the same as a built-in model. It doesn't differ significantly by size or design. Every modern dish features a grip of essential arts. It includes:
powerful heating element;
detergent dispenser;
upper and lower spray arms;
circulation pump to force water inside;
2 or 3 secure dish racks;
efficient filtration system;
front door with touchpad or control dial.
Best dishwasher for wine glasses comes with an adjustable upper rack. Portable machines, both wheeled and countertop commonly have this advantage. It lets you fit large plates and tall items inside. But they stand out by different water intake and drainage connections.
More information can be found here: best dishwasher for wine glasses!
Are Benchtop Dishwashers Any Good?
Your compact machine might be nearly as powerful as a bulky model. It looks elegant and trendy, fitting any kitchen design and style. A modern countertop dishwasher is similar to a microwave oven by size and appearance. Meanwhile, it's not ness efficient or handy, for real.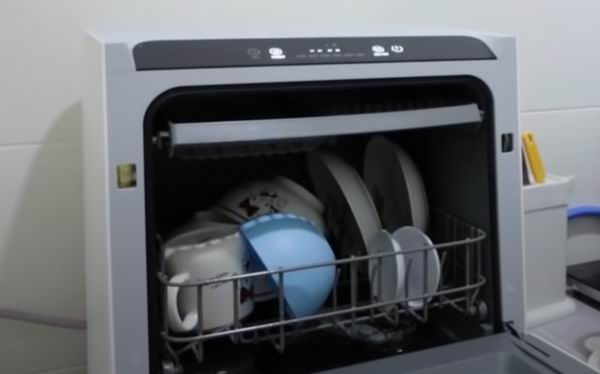 Do any dishwashers actually work? A countertop device washes your dishes, making them sparkling-clean. The difference is only in:
capacity;
number of cycles and features;
racks size and design;
insulation and soundproofing materials.
Most compact benchtop models are functional. Most importantly, they come with stellar sanitizing and air refresh cycles. These smart machines are faster than permanent installed, bulky devices. Dishwasher quick wash vs normal wash is light-duty, but energy-saving. It might take not more than 20-40 minutes. But if you are in a hurry, it's still useful.
Countertop dishwashers are commonly noisier than freestanding models. But it depends on the interior material. Containing plastic, portable models are lightweight but not quiet.
How Do Counter Top Dishwashers Hook Up?
Compact appliances might compromise some features, like a heated dry opportunity. Containing only one rack, they fit fewer plates than larger devices. But if your family is small or you like traveling, it could be your choice. Try to find an advanced model that comes with a water tank. It needs no connection at all.
So, you can set up a dishwasher outdoors or at a campsite. Slight, 20 PSI water pressure is enough for it to operate. Otherwise, a hook-up would be necessary. Both wheeled and benchtop dishwasher types have similar connection systems. Each appliance comes with two hoses in a set.
You only need to buy a faucet adapter. Commonly it's not available in the parcel. Thus, you don't need professional assistance to connect your dishwasher's hoses. It's easy and intuitive.
Remove an aerator or screen filter from the faucet.
Place or roll in your dishwasher.
Attach your optional faucet adapter.
Turn on hot water and use the dishwasher.
Don't forget about the second hose: place it into your kitchen sink. This way, you avoid leakage issues. Drain hose discharges muddy, used water through any drainage siphon within your house.
Bottom Line
Portable dishwashers are convenient, efficient devices. They are designed for families that move or travel often. Large or compact, hefty or lightweight, they do the job. Your glasses, plates and cutlery are sparkly clean after the operation. When the cycle is complete, turn water off and disconnect the hose. Remove your clean kitchenware from the dishwasher. Now you can put it away from your tiny kitchen and store it wherever you want. Thus, it helps you with your daily chores, keeping your favorite dishes clean, dry and safe to use.
Video Review: How Does Countertop Dishwashers Work?